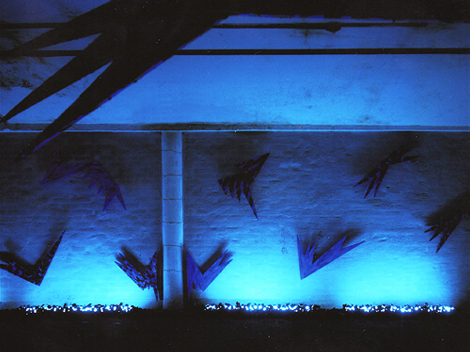 SIRENS
Langlinie Harbour / Copenhagen 1985



Sound : Ole Højer Hansen


The Langelinie Project was a unique event, taking place in Denmark. It was a part of The International Theatre Festival of Copenhagen and I was in charge as project leader. A total of 38 visual artists were invited to create installations in the long low 3000-square-meter storehouse alongside the quay of Langelinie.

* B.v.H.H.S's has made a quite simple installation of coal piles around ghost-like neon tubes in arrow-straight rows leading to the room's white columns. The ceiling is ringed by aggressively sharp-edged shapes, vigorous outbursts contrasting the muted yet piercing light and promoting an eerie past-and-future feeling, as though different plans were being revealed, sending sparks flying as they collide.
- Politiken / Newspaper / Hellen Lassen -
* Several of the artists augment the eerie mood, which is especially prevalent in the low, quite claustrophobic cellar rooms. Most directly, B.v.H.H.S. has hung a tangle of threatening, reaching arms and bathed the room in uncanny blue light to the sound of sirens, reminding you of occupation's bomb shelters. 'Temple of Fear' he calls his work.
- Information / Newspaper / Kasper Monrad -




th