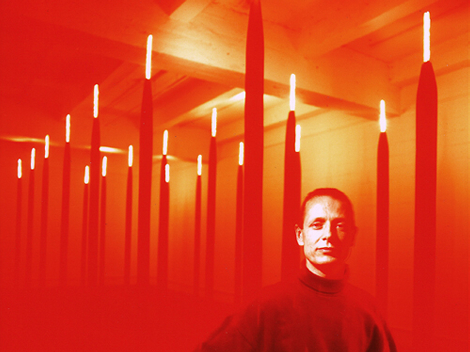 'SOUL'

La Mama La Galleria / New York 1988



Installation & Opera-Performance


The Installation 'SOUL' . Is like a red inferno, a forest of luminous energies, with its 21 thin, 3,5 m high sculptures topped by glowing red neon lights. Rising from three mounds of red pigment, with jagged formations at the base, they evoke seven-branched candelabra burning the Holy Fire. The sculptures shoot out of the unconscious like pillars of energy, and as a reflection of the familiar urban skyline.
Thus, the installation 'SOUL' is a reflection of New York City, the visible 'SOUL' of America.
The Opera-Performance 'SOUL'. consists of three linked sequences, each created by different director, composer and poet, in close collaboration with the performers, 3 opera singers. Rather than the written word, the basis of performance is the visual manuscript, and the unifying title 'SOUL'.
The meditative and pulsating scores, incisive libretti, and differing staging concepts, as well as the singers' special approach to the material all combine to spell out and enhance the complexities and inner tensions inherent in the installation 'SOUL'.



thu