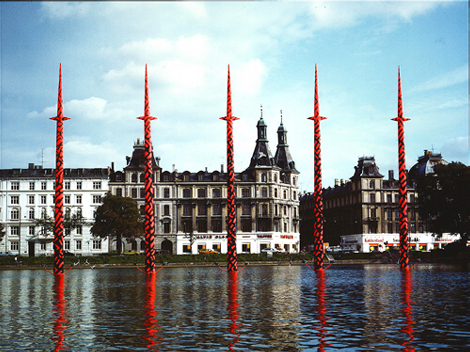 5 SPIRES
Sortedams Lake / Copenhagen 1987


*
B.v.H.H.S's forceful, neon-red missiles have a statement to make
about life in the city. They are on the attack – aggressive, assertive,
posturing. They are handsome and up to the job.
- Politiken / Newspaper / Hellen Lassen -

*
In Sortedams Lake a string of spotlights illuminates B.v.H.H.S's five
spotted spires lined up like the masts of a sunken pirate ship – the Flying
Dutchman, perhaps? From a nearby bridge, you can see the front
spires gather the other spires behind them and mirror the water like a
Concorde with wings of bundled string. In daytime, the red and black
spotted masts are equally impossible to overlook, jaggedly shimmering
in the current.
- Berlingske / Newspaper / Peter Michael Hornung -




humbs_up