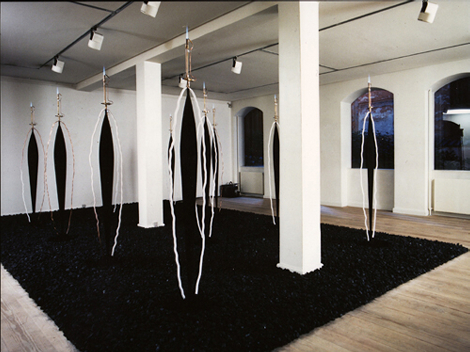 PLUS - MINUS
Galerie Asbæk / Copenhagen 1988


'Plus-Minus' a poetic, quiet installation, a magically lingering force field suffused with the internal energy of opposites: Fire-Ice / Black-White / Light-Heavy / Airy-Grounded.

* 'Plus-Minus' B.v.H.H.S. calls his wheezing brass concerto. Three times four swords ringed by frosty white copper refrigeration elements topped by burning gas flames symmetrically arranged in a bed of coal. B.v.H.H.S's is fond of such oppositions of fire and ash, spear and plane. He has cultivated them before – and always successfully. In his current show, it's not the interplay of the shapes that matters but the whole atmosphere, however thin, of gaslight, mugginess and bad breath. There is something bodily imposing, at once nauseatingly contingent and formally remote, about this gas chamber.
- Information / Newspaper / Poul Erik Tøjner -
* In hairpin-curved copper pipes B.v.H.H.S. delineates the sculpture. Continually chilled, the pipes are neon white. Rime notwithstanding, they underscore the sculpture's vibrating life. This is a contradictory narrative of something living amid cold and death. A past is invoked, bringing attention to the present silence and emptiness. In repetition and simple forms, B.v.H.H.S. attains monumental gravity and a magic akin to modern French sculpture.
- Berlingske / Newspaper / Eva Pohl -
* B.v.H.H.S. has become someone from whom you expect great surprises. Every time. And this is no exception. Again, he manages to make his surroundings insecure. Perhaps, indeed, because they are his premise.
- Politiken / Newspaper / Peter M. Hornung -