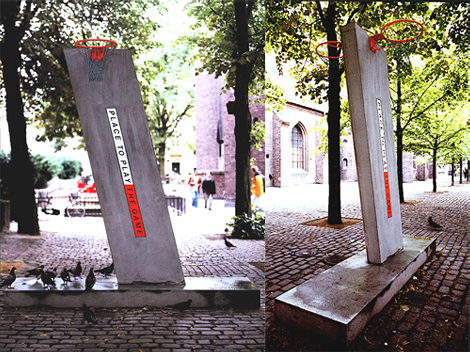 PLACE NIKOLAJ PLACE

NIKOLAJ - Copenhagen Contemporary Art Center / Denmark 2000


I created a contemporary dialectical installation relating to the functions of Nikolaj Place and its long history. Nikolaj Place is an old, central Copenhagen square. Originally a churchyard, then a Romantic ruin and later yet a busy butchers' market, Nikolaj Pllace in the 20th century became an often-overlooked city space off Strøget. Today, the place is experienced as an enclosed area. Tall trees block the view, and Nikolaj Church in the center of the square is not clearly in view or in mind.
PLACE NIKOLAJ PLACE consists of four concrete monuments, one in each corner of the square, fixing the site in time and space. By their placement, shape, height and materials, the sculptures are reminiscent of historical monuments. They combine to emit a disharmonious signal about the many functions of Nikolaj Place, likewise urging the viewers to reflect on their use of this specific space in the city. The four sculptures are:
PLACE TO DIE
PLACE TO BE OR NOT
PLACE TO SIT OUT-SIDE
PLACE TO PLAY THE GAME

* Most modern sculpture in urban Copenhagen fails to make anyone's piss boil. Modish minimalist monuments, they invite at most a conventional tip of the hat as you pass the colossal knick-knacks in granite, marble or bronze. But in Nikolaj Place right now something entirely different is happening. The artist B.v.H.H.S's sculpture project 'Place Nikolaj Place' is visually invigorating the old city square, which has been quietly tucked away off Strøget for the past many years.
- Night & Day / Camilla A. Stockmann -