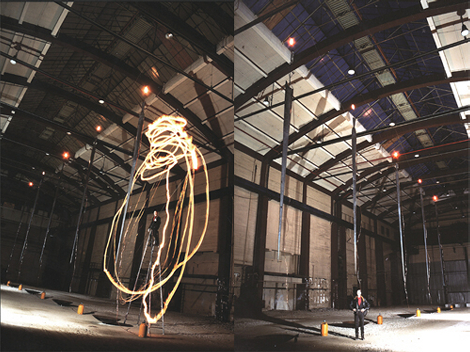 METAMOR'PHOSIS
B&W Shipyards hall / Copenhagen 1989



Sound: Carsten Møller


The former B&W Shipyards hall (90x30x22 meters), is a 'contemporary cathedral' in an aesthetics-of-decay age.
Sculptures ten meters long are suspended along the central axis of the hall, accentuating its vast length. 'Amphorae/Vessels of Life' hang in mid-air like long knifes with eternal fire blasting at the top. Life force – waste oil – slowly drips from them, drop by drop, into the sacred vessel below.
This ritual process of 'Metamor'phosis' is underscored by composer Carsten Møller's tape loop, an ethereal, slowly changing sound of organ and vocal.

* Entering the gigantic hall is presents an enthralling experience. Silence suddenly changes to sound, though always distant. The size of the space is so great that phenomena disappear. Being in the space is quite demanding, until the point when the installation comes together in your consciousness and meditative oblivion can set in. B.v.H.H.S.'s last gas piece at Galerie Asbæk a few years ago was intimidating and made you gasp for air, but his new work is elevated, calming your breathing. Like an experience of a space brimming with meek yet insistent life, this metamorphosis fascinates because it is not a dogma of the aesthetics of decay in an age with a penchant for eschatology and ruins.
- Weekendavisen / Newspaper / Poul Erik Tøjner -
* You disappear in the room. You feel small standing there, conscious of your own physical presence. Letting go in the face of the transformation that occurs in this industrial space, you merge with it. Endowing the monumental hall with spirituality, B.v.H.H.S. causes two dimensions to fuse into one. A truly supreme presentation.
- Frederiksborg Amts Avis / Newspaper / Ann L. Sørensen -
* Five hanging spearheads with flames at the top. The combination connotes male/female and death/rebirth symbols, as one part of the energy rises up through the eternal flames and another part, the oil, runs down into the vessels, seeking the ground in a continuous circle. The archetypal symbolics shines brightly in this raw, almost sacred space.
- Politiken / Newspaper / Hellen Lassen -




t