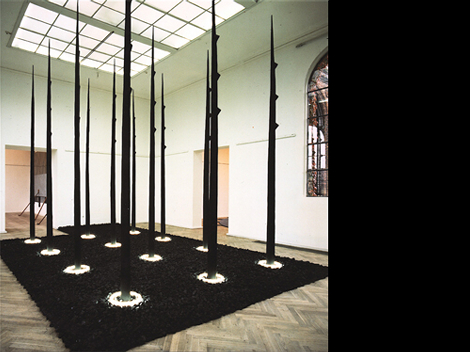 DEAD LIGHT / LIFE LIGHT
Kunsthal Charlottenborg / Copenhagen 1986


*
B.v.H.H.S. makes you spectator to a wondrously cultish environment. Black stakes jut from rings of neon on a bed of coal, the rings glowing like halos that have fallen from heaven to a not yet burning hell. Note B.v.H.H.S's name. He may shine a light on unseen visions in Danish art.
- Berlingske / Newspaper / Peter M. Hornung -
* Effect should be understood as internal inquiry the art works' produces. Containing a hidden rhetoric, they are like sentences in a foreign language: their meaning is hidden, yet you know words are spoken. The speech takes hold in the mind like an inscrutable effect. This is an experience B.v.H.H.S. understands. And masters. The artist has twelve black barbed spears growing out of a pitch-black pile of coal, each spear enhaloed by a glowing white neon ring.
- Kristelig Dagblad / Newspaper / Poul Erik Tøjner -

* The biggest immediate impact, however, as I see it, was delivered by the Danish artist B.v.H.H.S's room, a large geometrically defined floor space covered in coal from which a small grove of regularly spaced black wooden poles reach to the ceiling, the foot of each pole circled by a glowing neon ring. It is a room that ought to have permanent existence as a meditation space for the tormented.
- Information / Newspaper / Bent Irve -
* B.v.H.H.S's tremendously fascinating, rigorous construction in black: a species of stylized pines rising from a bed of black coal and, at the bottom, a ring of light. 'Dead Light / Life Light' he calls it. An eternal cycle.
- Frederiksborg Amts Avis / Newspaper / Ann L. Sørensen -




t