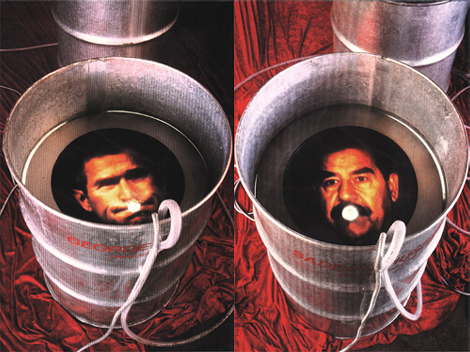 GLOBAL-INHALATION-EXPIRATION
Water Reservoir Prenzlauer Berg / Berlin / Germany 2001




Staged like a 'lit de parade', the installation is a reflection on the air we breathe, physically and mentally. How political leaders pollute other people's lives. How power and finances corrupt, inducing a global lack of oxygen.

Political leaders and dictators lie in liquid-filled oil drums, gasping for breath. Air bubbles stream from their mouths, as they seem to be drowning.
The oil drums stand on humanism's bright red carpet, draping down from the ceiling in soft, 'humane', ethical and aesthetic folds hiding other oil drums containing 'Past Sinners'.
– The global world holds its breath –



t