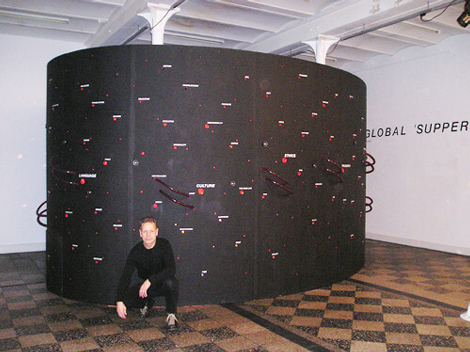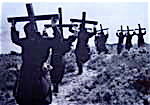 GLOBAL 'SUPPER'

OVERGADEN – Institute of Contemporary Art 2005



Sound Installation


The installation resembles a big black closed oval universe with shining stars – or a perforated organ gasping for breath. The closer you get to the installation, the more clearly you hear the sound of breathing from many small speakers.
A red liquid pulses through 13 bullet-ridden oil drums via winding plastic tubing, connecting the scarlet interior of this universe to its black exterior in a closed circuit. You get the sense of looking into a bodily organ, into the inside of life. Each barrel, with printed lettering, symbolizes one of the 13 major themes in life with which the global world, as well as every individual, is always struggling. The oil drums form a chaotic, symbolic circle, GLOBAL SUPPER, where the eternal subject – life's essence and center – is under debate.
ART
•
SCIENCE
•
SPIRITUALITY
•
PHILOSOPHY
•
ETHICS
•
CULTURE
•
LANGUAGE
•
RACE
•
SEX
•
LABOUR
•
ECONOMY
•
POLITICS
•
UNIVERSE

* A show with originality, engagement and a fair helping of wildness. B.v.H.H.S.'s oval, black sculpture Global 'Supper' is monumental, an apparent blood transfusion of art, science, philosophy, race, gender, politics and responsibility mixed with the sound of breathing, reminding us that this could be the last tango.
- Berlingske / Newspaper / Eva Pohl -