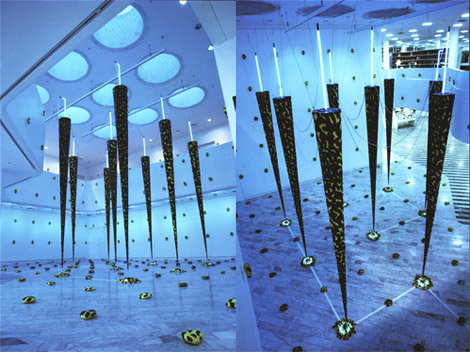 INSEMINATION
Gentofte Art Library / Copenhagen 1986

The installation 'INSEMINATION' is an open, planet-like, rhythmic landscape, a visual laboratory touching on past, present and future.
From the skylight ducts hang nine very long and thin, fluorescent-yellow and black conic elements topped by blue neon tubes. At the tip of each of these conic elements, which just avoid touching the floor, a small blue light bulb blinks. The electrical impulses are implanted to the blue neon tubes on the floor that are half covered by small fluorescent yellow stones. The blinks signal a constant life-giving process, 'INSEMINATION'.
The Performance INSEMINATION consists of four linked sequences, each created by different director, composer in close collaboration with the 6 dancers and actors. Rather than the written word, the basis of performance is the visual manuscript, and the concept 'INSEMINATION'.
The meditative and pulsating scores and differing staging concepts, as well as the performers' special approach to the material all combine to spell out and enhance the complexities and inner tensions inherent in the installation 'INSEMINATION'.


* B.v.H.H.S. is known for his installations at Galleri Sub-Set and Kongo, not to mention his suggestive half-ghost, half-UFO neon room for Projekt Langelinie last summer. This new total room installation is also planned as 'an openly planet-like, rhythmic landscape, an installation touching on past, present and future'.
- Politiken / Newspaper / Hellen Lassen -



thumbs_up